Skip to content
Skip to navigation menu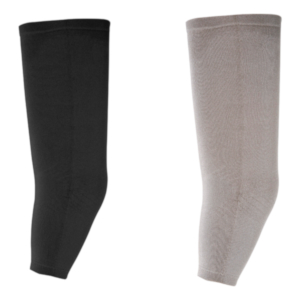 Derma ProFlex
Item #: 453A3
Black or Silver; 38.5-40.5cm overall length
Overview
Derma ProFlex is an anatomically shaped sealing sleeve made from a hard-wearing copolymer (TPE) with outer textile.

The anatomical shape results from a combination of 3 different features:


Pre-flexion of 15° for easier knee flexion and reduced formation of wrinkles in the hollow of the knee
Conical shape for comfortable pressure distribution in the area of the thigh and optimal adhesion to the prosthetic socket
Pre-shaped patella section for reduced pressure on the patella during the entire range of movement

The interplay of these 3 factors provides for a previously unmatched level of functionality and wearer comfort for the user.

The Derma ProFlex knee sleeve can be used as the primary suspension system or with a valve or the Harmony system. It is suitable for users with a low to high activity level.
Available in colors Silver or Black (-7).
Thigh length from MPT to proximal brim approx. 26 cm
Specifications
Size chart

| | | | |
| --- | --- | --- | --- |
| Article number for color SILVER | 453A3=1 | 453A3=2 | 453A3=3 |
| Article number for color BLACK | 453A3=1-7 | 453A3=2-7 | 453A3=3-7 |
| Size | 1 | 2 | 3 |
| Seam color | Blue | Green | Yellow |
| Knee center circumference | 24 - 32 cm | 30 - 40 cm | 36 - 47 cm |
| Circumference 20 cm proximal to knee center | 34 - 46 cm | 40 - 54 cm | 48 - 66 cm |
| Overall length | 38.5 cm | 38.5 cm | 40.5 cm |